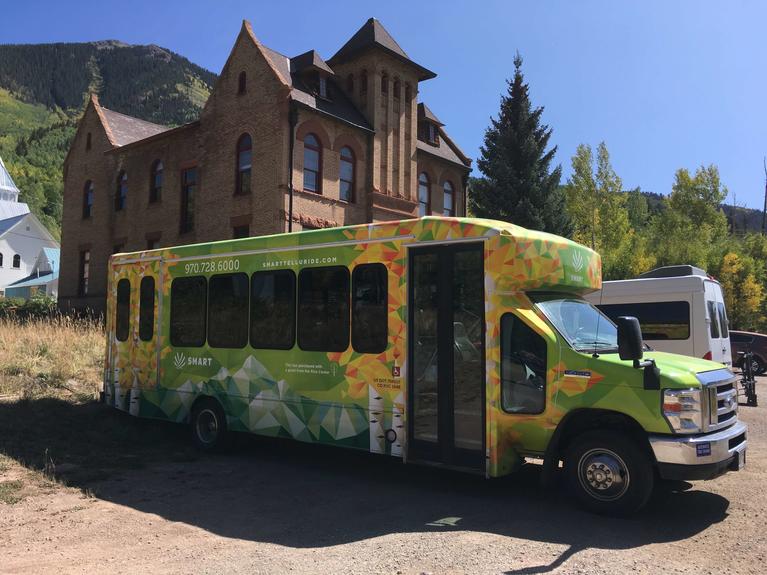 Letter to the Forest Service regarding its proposed sale of 39.99 acres of public land on Rico's north side to the Atlantic Richfield Company
Transit is Here 
The Rico Shuttle leaves Rico from the Enterprise Bar & Grill for Telluride at 7:00 AM Monday through Friday.  It leaves the Telluride Courthouse at 5:15 PM.
5 Reasons to use the Rico Shuttle  
It's cheaper.  A one way trip to Telluride costs $3.00 on the shuttle.  A two way trip is $6.00.  A trip to Telluride in a standard passenger car with average gas mileage costs $6.50 just for gas.  This does not include wear and tear on your vehicle.

You can make new friends and catch up with old ones.

You can do other things on the way to work - read, sleep, play video games on your phone, eat breakfast.

You can have a beer after work (if you finish at 4:30 or 5:00).

You don't have to deal with the Town of Telluride's multitude of parking regulations.
For schedules and more information about regional transit:
Are you a business owner in Rico? 
The Colorado Office of Economic Development and International Trade offers a program to encourage and facilitate business creation and operation in economically distressed areas. This program offers tax credits to employers and business owners in what they call Enhanced Rural Enterprise Zones. The Town of Rico is in an Enhanced Rural Enterprise Zone.  Please see the attached letter and guide to help you take advantage of these tax credits.
Letter to business owners re: EZ tax credits
COVID19 Information

The flyer below has information about how vaccinations will be allocated and when groups can expect to have access:

Phase timeline for COVID vaccinations

More information regarding the availability of vaccines for Rico residents that are over 70 can be obtained by calling the Dolores County Public Health office at (970) 512-6066 or emailing mrandolph@fone.net.  

There is some funding available for rent and mortgage assistance through the Department of Local Affairs.  To get more information and to apply, go to https://cdola.colorado.gov/rental-mortgage-assistance 

Due to an increase in COVID19 cases, Dolores County has moved to from Level Yellow to Level Orange.

For more information regarding this level change please read this letter from the Colorado Department of Public Health and Environment:

The following two documents offer more information about increased restrictions under Level Orange: